Large Stock & Rapid Production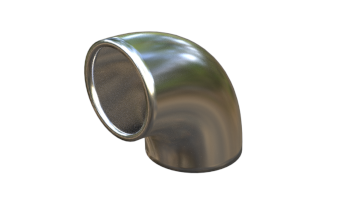 Titanium Elbows, manufactured in accordance with ASME B16.9 are pipe fittings sized between 0.5 inch to 48 inch. Used to connect pipes and piping sections together, precision engineering ensures that the integrity of the pipe structure.
We manufacture to the full range of ASME B16.9 sizes in a range of titanium grades as detailed below. If you would like to discuss your piping project or simply need a quick quote for parts, big or small, we'd love to hear from you!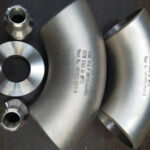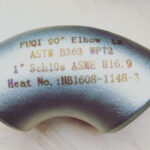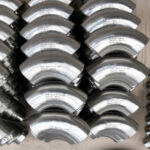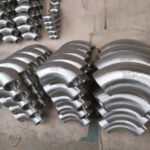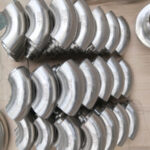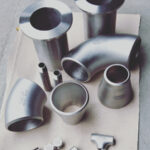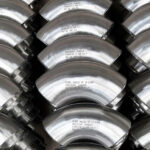 The ASME 16.9 elbow standard defines dimensions of a small to medium size range of piping applications. The standard also covers a range of materials and the production techniques. Whilst the standard serves the majority of cases custom sizes can also be produced.
The B16.9 standard defines two types of elbows, short and long radius. Long radius elbows are used to reduce pressure changes within the piping. Short elbows are the more conventional sizes.
Standard Elbow Dimensions & Tolerances
90° Long Radius
45° Long Radius
90° Short Radius
180° Long Radius
180° Short Radius
90° Long Radius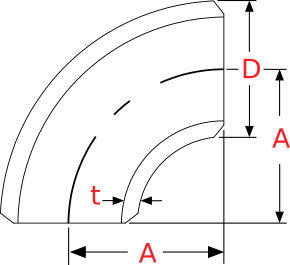 NPS
O.D.
D
Center-to-End
A
3D Center-to-End
A
1/2
21.3
38
–
3/4
26.7
38
57
1
33.4
38
76
1¼
42.2
48
95
1½
48.3
57
114
2
60.3
76
152
2½
73
95
190
3
88.9
114
229
3½
101.6
133
267
4
114.3
152
305
5
141.3
190
381
6
168.3
229
457
8
219.1
305
610
10
273
381
762
12
323.8
457
914
14
355.6
533
1067
16
406.4
610
1219
18
457
686
1372
20
508
762
1524
22
559
838
1676
24
610
914
1829
26
660
991
1981
28
711
1067
2134
30
762
1143
2286
32
813
1219
2438
34
864
1295
2591
36
914
1372
2743
38
965
1448
2896
40
1016
1524
3048
42
1067
1600
3200
44
1118
1676
3353
46
1168
1753
3505
48
1219
1829
3658
Tolerances
| Nominal Pipe Size | Outside Diameter at Bevel (D) | Inside Diameter at End | Center to End LR (A/B) | Center to End 3D (A/B) | Wall Thickness (t) |
| --- | --- | --- | --- | --- | --- |
| 1/2 to 2.1/2 | + 1.6 – 0.8 | 0.8 | 2 | 3 | Not less than 87.5% of Nominal Wall Thickness |
| 3 to 3.1/2 | 1.6 | 1.6 | 2 | 3 | |
| 4 | 1.6 | 1.6 | 2 | 3 | |
| 5 to 8 | + 2.4 – 1.6 | 1.6 | 2 | 3 | |
| 10 to 18 | + 4 – 3.2 | 3.2 | 2 | 3 | |
| 20 to 24 | + 6.4 – 4.8 | 4.8 | 2 | 3 | |
| 26 to 30 | + 6.4 – 4.8 | + 6.4 – 4.8 | 3 | 6 | |
| 32 to 48 | + 6.4 – 4.8 | + 6.4 – 4.8 | 5 | 6 | |
45° Long Radius
90° Short Radius
180° Long Radius
180° Short Radius