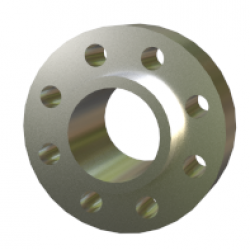 Titanium Flanges are used to connect pipes, pumps, vales and other piping components together to create a piping network. They are used to split pipe networks to facilitate inspection and cleaning, and can be either screwed or welded to pipes. Flanged joints are typically bolted together with a gasket in between.
Standard Titanium produce and stock a wide range of common flanges including:
Welding Neck Flange
Slip On Flange
Socket Weld Flange
Lap Joint Flange
Threaded Flange
Blind Flange
In addition to standard flanges we are able to produce special flanges to order, including Reducer / Expander Flanges, Long Neck and Orifice Flanges.
Flanges are typically specified and produced against the ASME B16.5 Standard for Pipe Flanges and Flanged Fittings and we maintain a number of stock items for immediate shipping.
Specification : ASME B16. 5 Pipe Flanges and Flanged Fittings
ASME B16.5 Pipe Flanges and Flanged Fittings: NPS 1/2 through NPS 24 Metric/Inch Standard covers pressure-temperature ratings, materials, dimensions, tolerances, marking, testing, and methods of designating openings for pipe flanges and flanged fittings
The B16 Standards are used to specify the majority of our products and allow all parties to comply with applicable regulations within local jurisdictions, while achieving the operational, cost and safety benefits to be gained from the many industry best-practices.
Production Flange Dimensions
Slip On
Lap Joint
Blind
Socket Weld
Threaded
Welded Neck
Flange Bolts
Slip On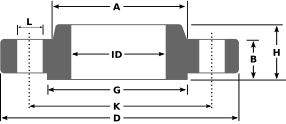 Dimensions in mm unless specified.
Stud Bolt length does not include chamfer height.
ID = Depending on the wall thickness of the pipe, to be specified on order.
| NPS | CLass | DIA A | DIA D | THK B | DIA G | DIA K | H | NO. L | DIA L | Stud Bolts DIA (in) |  Stud Bolts lgth (mm)  |
| --- | --- | --- | --- | --- | --- | --- | --- | --- | --- | --- | --- |
| NPS 1/2 ID 22.3 | 150 | 30 | 90 | 11.2 | 35.1 | 60.3 | 15.6 | 4 | 15.9 | 1/2 | 55 |
| NPS 1/2 ID 22.3 | 300 | 38 | 95 | 14.3 | 35.1 | 66.7 | 22.6 | 4 | 15.9 | 1/2 | 65 |
| NPS 1/2 ID 22.3 | 600 | 38 | 95 | 20.7 | 35.1 | 66.7 | 28.4 | 4 | 15.9 | 1/2 | 75 |
| NPS 1/2 ID 22.3 | 900 | 38 | 120 | 28.7 | 35.1 | 82.6 | 38.4 | 4 | 22.2 | 3/4 | 110 |
| NPS 1/2 ID 22.3 | 1500 | 38 | 120 | 28.7 | 35.1 | 82.6 | 38.4 | 4 | 22.2 | 3/4 | 110 |
| NPS 1/2 ID 22.3 | 2500 | … | … | … | … | … | … | … | … | … | … |
| NPS 3/4 ID 27.7 | 150 | 38 | 100 | 12.8 | 42.9 | 69.9 | 15.6 | 4 | 15.9 | 1/2 | 65 |
| NPS 3/4 ID 27.7 | 300 | 48 | 115 | 15.9 | 42.9 | 82.6 | 25.6 | 4 | 19.1 | 5/8 | 75 |
| NPS 3/4 ID 27.7 | 600 | 48 | 115 | 22.3 | 42.9 | 82.6 | 31.4 | 4 | 19.1 | 5/8 | 90 |
| NPS 3/4 ID 27.7 | 900 | 44 | 130 | 31.8 | 42.9 | 88.9 | 41.4 | 4 | 22.2 | 3/4 | 115 |
| NPS 3/4 ID 27.7 | 1500 | 44 | 130 | 31.8 | 42.9 | 88.9 | 41.4 | 4 | 22.2 | 3/4 | 115 |
| NPS 3/4 ID 27.7 | 2500 | … | … | … | … | … | … | … | … | … | … |
| NPS 1 ID 34.5 | 150 | 49 | 110 | 14.3 | 50.8 | 79.4 | 17.6 | 4 | 15.9 | 1/2 | 65 |
| NPS 1 ID 34.5 | 300 | 54 | 125 | 17.5 | 50.8 | 88.9 | 26.6 | 4 | 19.1 | 5/8 | 75 |
| NPS 1 ID 34.5 | 600 | 54 | 125 | 23.9 | 50.8 | 88.9 | 33.4 | 4 | 19.1 | 5/8 | 90 |
| NPS 1 ID 34.5 | 900 | 52 | 150 | 35 | 50.8 | 101.6 | 47.4 | 4 | 25.4 | 7/8 | 125 |
| NPS 1 ID 34.5 | 1500 | 52 | 150 | 35 | 50.8 | 101.6 | 47.4 | 4 | 25.4 | 7/8 | 125 |
| NPS 1 ID 34.5 | 2500 | … | … | … | … | … | … | … | … | … | … |
| NPS 1.1/4 ID 43.2 | 150 | 59 | 115 | 15.9 | 63.5 | 88.9 | 20.6 | 4 | 15.9 | 1/2 | 70 |
| NPS 1.1/4 ID 43.2 | 300 | 64 | 135 | 19.1 | 63.5 | 98.4 | 26.6 | 4 | 19.1 | 5/8 | 85 |
| NPS 1.1/4 ID 43.2 | 600 | 64 | 135 | 27.1 | 63.5 | 98.4 | 35.4 | 4 | 19.1 | 5/8 | 95 |
| NPS 1.1/4 ID 43.2 | 900 | 64 | 160 | 35 | 63.5 | 111.1 | 47.4 | 4 | 25.4 | 7/8 | 125 |
| NPS 1.1/4 ID 43.2 | 1500 | 64 | 160 | 35 | 63.5 | 111.1 | 47.4 | 4 | 25.4 | 7/8 | 125 |
| NPS 1.1/4 ID 43.2 | 2500 | … | … | … | … | … | … | … | … | … | … |
| NPS 1.1/2 ID 49.5 | 150 | 65 | 125 | 17.5 | 73.2 | 98.4 | 22.6 | 4 | 15.9 | 1/2 | 70 |
| NPS 1.1/2 ID 49.5 | 300 | 70 | 155 | 20.7 | 73.2 | 114.3 | 30.6 | 4 | 22.2 | 3/4 | 90 |
| NPS 1.1/2 ID 49.5 | 600 | 70 | 155 | 28.7 | 73.2 | 114.3 | 38.4 | 4 | 22.2 | 3/4 | 110 |
| NPS 1.1/2 ID 49.5 | 900 | 70 | 180 | 38.2 | 73.2 | 123.8 | 50.4 | 4 | 28.6 | 1 | 140 |
| NPS 1.1/2 ID 49.5 | 1500 | 70 | 180 | 38.2 | 73.2 | 123.8 | 50.4 | 4 | 28.6 | 1 | 140 |
| NPS 1.1/2 ID 49.5 | 2500 | … | … | … | … | … | … | … | … | … | … |
| NPS 2 ID 62.0 | 150 | 78 | 150 | 19.1 | 91.9 | 120.7 | 25.6 | 4 | 19.1 | 5/8 | 85 |
| NPS 2 ID 62.0 | 300 | 84 | 165 | 22.3 | 91.9 | 127 | 33.6 | 8 | 19.1 | 5/8 | 90 |
| NPS 2 ID 62.0 | 600 | 84 | 165 | 31.8 | 91.9 | 127 | 43.4 | 8 | 19.1 | 5/8 | 110 |
| NPS 2 ID 62.0 | 900 | 105 | 215 | 44.5 | 91.9 | 165.1 | 63.4 | 8 | 25.4 | 7/8 | 145 |
| NPS 2 ID 62.0 | 1500 | 105 | 215 | 44.5 | 91.9 | 165.1 | 63.4 | 8 | 25.4 | 7/8 | 145 |
| NPS 2 ID 62.0 | 2500 | … | … | … | … | … | … | … | … | … | … |
| NPS 2.1/2 ID 74.7 | 150 | 90 | 180 | 22.3 | 104.6 | 139.7 | 27 | 38.6 | 4 | | 5/8 |
| NPS 2.1/2 ID 74.7 | 300 | 100 | 190 | 25.5 | 104.6 | 149.2 | 37 | 47.4 | 8 | | 3/4 |
| NPS 2.1/2 ID 74.7 | 600 | 100 | 190 | 35 | 104.6 | 149.2 | 41 | 70.4 | 8 | | 3/4 |
| NPS 2.1/2 ID 74.7 | 900 | 124 | 245 | 47.7 | 104.6 | 190.5 | 64 | 70.4 | 8 | | 1 |
| NPS 2.1/2 ID 74.7 | 1500 | 124 | 245 | 47.7 | 104.6 | 190.5 | 64 | … | 8 | | 1 |
| NPS 2.1/2 ID 74.7 | 2500 | … | … | … | … | … | … | | … | | … |
| NPS 3 ID 90.7 | 150 | 108 | 190 | 23.9 | 127 | 152.4 | 30.6 | 4 | 19.1 | 5/8 | 90 |
| NPS 3 ID 90.7 | 300 | 117 | 210 | 28.6 | 127 | 168.3 | 42.6 | 8 | 22.2 | 3/4 | 110 |
| NPS 3 ID 90.7 | 600 | 117 | 210 | 38.2 | 127 | 168.3 | 52.4 | 8 | 22.2 | 3/4 | 125 |
| NPS 3 ID 90.7 | 900 | 127 | 240 | 44.5 | 127 | 190.5 | 60.4 | 8 | 25.4 | 7/8 | 145 |
| NPS 3 ID 90.7 | 1500 | … | … | … | … | … | … | … | … | … | … |
| NPS 3 ID 90.7 | 2500 | … | … | … | … | … | … | … | … | … | … |
| NPS 3.1/2 ID 103.4 | 150 | 122 | 215 | 23.9 | 139.7 | 177.8 | 31.6 | 8 | 19.1 | 5/8 | 90 |
| NPS 3.1/2 ID 103.4 | 300 | 133 | 230 | 30.2 | 139.7 | 184.2 | 44.6 | 8 | 22.2 | 3/4 | 110 |
| NPS 3.1/2 ID 103.4 | 600 | 133 | 230 | 41.4 | 139.7 | 184.2 | 55.4 | 8 | 25.4 | 7/8 | 140 |
| NPS 3.1/2 ID 103.4 | 900 | … | … | … | … | … | … | … | … | … | … |
| NPS 3.1/2 ID 103.4 | 1500 | … | … | … | … | … | … | … | … | … | … |
| NPS 3.1/2 ID 103.4 | 2500 | … | … | … | … | … | … | … | … | … | … |
| NPS 4 ID 116.1 | 150 | 135 | 230 | 23.9 | 157.2 | 190.5 | 33.6 | 8 | 19.1 | 5/8 | 90 |
| NPS 4 ID 116.1 | 300 | 146 | 255 | 31.8 | 157.2 | 200 | 47.6 | 8 | 22.2 | 3/4 | 115 |
| NPS 4 ID 116.1 | 600 | 152 | 275 | 44.5 | 157.2 | 215.9 | 60.4 | 8 | 25.4 | 7/8 | 145 |
| NPS 4 ID 116.1 | 900 | 159 | 290 | 50.9 | 157.2 | 235 | 76.4 | 8 | 31.8 | 1.1/8 | 170 |
| NPS 4 ID 116.1 | 1500 | … | … | … | … | … | … | … | … | … | … |
| NPS 4 ID 116.1 | 2500 | … | … | … | … | … | … | … | … | … | … |
| NPS 6 ID 170.7 | 150 | 192 | 280 | 25.5 | 215.9 | 241.3 | 39.6 | 8 | 22.2 | 3/4 | 100 |
| NPS 6 ID 170.7 | 300 | 206 | 320 | 36.6 | 215.9 | 269.9 | 52.6 | 12 | 22.2 | 3/4 | 120 |
| NPS 6 ID 170.7 | 600 | 222 | 355 | 54.3 | 215.9 | 292.1 | 73.4 | 12 | 28.6 | 1 | 170 |
| NPS 6 ID 170.7 | 900 | 235 | 380 | 62 | 215.9 | 317.5 | 92.4 | 12 | 31.8 | 1.1/8 | 190 |
| NPS 6 ID 170.7 | 1500 | … | … | … | … | … | … | … | … | … | … |
| NPS 6 ID 170.7 | 2500 | … | … | … | … | … | … | … | … | … | … |
| NPS 8 ID 221.5 | 150 | 246 | 345 | 28.6 | 269.7 | 298.5 | 44.6 | 8 | 22.2 | 3/4 | 110 |
| NPS 8 ID 221.5 | 300 | 260 | 380 | 41.3 | 269.7 | 330.2 | 61.6 | 12 | 25.4 | 7/8 | 140 |
| NPS 8 ID 221.5 | 600 | 273 | 420 | 62 | 269.7 | 349.2 | 82.4 | 12 | 31.8 | 1.1/8 | 190 |
| NPS 8 ID 221.5 | 900 | 298 | 470 | 69.9 | 269.7 | 393.7 | 108.4 | 12 | 38.1 | 1.3/8 | 220 |
| NPS 8 ID 221.5 | 1500 | … | … | … | … | … | … | … | … | … | … |
| NPS 8 ID 221.5 | 2500 | … | … | … | … | … | … | … | … | … | … |
| NPS 10 ID 276.3 | 150 | 305 | 405 | 30.2 | 323.9 | 362 | 49.6 | 12 | 25.4 | 7/8 | 115 |
| NPS 10 ID 276.3 | 300 | 321 | 445 | 47.7 | 323.9 | 387.4 | 66.6 | 16 | 28.6 | 1 | 160 |
| NPS 10 ID 276.3 | 600 | 343 | 510 | 69.9 | 323.9 | 431.8 | 92.4 | 16 | 34.9 | 1.1/4 | 215 |
| NPS 10 ID 276.3 | 900 | 368 | 545 | 76.3 | 323.9 | 469.9 | 114.4 | 16 | 38.1 | 1.3/8 | 235 |
| NPS 10 ID 276.3 | 1500 | … | … | … | … | … | … | … | … | … | … |
| NPS 10 ID 276.3 | 2500 | … | … | … | … | … | … | … | … | … | … |
| NPS 12 ID 327.1 | 150 | 365 | 485 | 31.8 | 381 | 431.8 | 55.6 | 12 | 25.4 | 7/8 | 120 |
| NPS 12 ID 327.1 | 300 | 375 | 520 | 50.9 | 381 | 450.8 | 72.6 | 16 | 31.8 | 1.1/8 | 170 |
| NPS 12 ID 327.1 | 600 | 400 | 560 | 73.1 | 381 | 489 | 98.4 | 20 | 34.9 | 1.1/4 | 220 |
| NPS 12 ID 327.1 | 900 | 419 | 610 | 85.8 | 381 | 533.4 | 123.4 | 20 | 38.1 | 1.3/8 | 255 |
| NPS 12 ID 327.1 | 1500 | … | … | … | … | … | … | … | … | … | … |
| NPS 12 ID 327.1 | 2500 | … | … | … | … | … | … | … | … | … | … |
| NPS 14 ID 359.1 | 150 | 400 | 535 | 35 | 412.8 | 476.3 | 57.6 | 12 | 31.8 | 1 | 135 |
| NPS 14 ID 359.1 | 300 | 425 | 585 | 54 | 412.8 | 514.4 | 76.6 | 20 | 31.8 | 1.1/8 | 180 |
| NPS 14 ID 359.1 | 600 | 432 | 605 | 76.3 | 412.8 | 527 | 100.4 | 20 | 38.1 | 1.3/8 | 235 |
| NPS 14 ID 359.1 | 900 | 451 | 640 | 92.2 | 412.8 | 558.8 | 136.4 | 20 | 41.3 | 1.1/2 | 275 |
| NPS 14 ID 359.1 | 1500 | … | … | … | … | … | … | … | … | … | … |
| NPS 14 ID 359.1 | 2500 | … | … | … | … | … | … | … | … | … | … |
| NPS 16 ID 410.5 | 150 | 457 | 595 | 36.6 | 469.9 | 539.8 | 63.6 | 16 | 28.6 | 1 | 135 |
| NPS 16 ID 410.5 | 300 | 483 | 650 | 57.2 | 469.9 | 571.5 | 82.6 | 20 | 34.9 | 1.1/4 | 190 |
| NPS 16 ID 410.5 | 600 | 495 | 685 | 82.6 | 469.9 | 603.2 | 112.4 | 20 | 41.3 | 1.1/2 | 255 |
| NPS 16 ID 410.5 | 900 | 508 | 705 | 95.3 | 469.9 | 616 | 139.4 | 20 | 44.5 | 1.5/8 | 285 |
| NPS 16 ID 410.5 | 1500 | … | … | … | … | … | … | … | … | … | … |
| NPS 16 ID 410.5 | 2500 | … | … | … | … | … | … | … | … | … | … |
| NPS 18 ID 461.8 | 150 | 505 | 635 | 39.7 | 533.4 | 577.9 | 68.6 | 16 | 31.8 | 1.1/8 | 145 |
| NPS 18 ID 461.8 | 300 | 533 | 710 | 60.4 | 533.4 | 628.6 | 88.6 | 24 | 34.9 | 1.1/4 | 195 |
| NPS 18 ID 461.8 | 600 | 546 | 745 | 89 | 533.4 | 654 | 123.4 | 20 | 44.5 | 1.5/8 | 275 |
| NPS 18 ID 461.8 | 900 | 565 | 785 | 108 | 533.4 | 685.8 | 158.4 | 20 | 50.8 | 1.7/8 | 325 |
| NPS 18 ID 461.8 | 1500 | … | … | … | … | … | … | … | … | … | … |
| NPS 18 ID 461.8 | 2500 | … | … | … | … | … | … | … | … | … | … |
| NPS 20 ID 513.1 | 150 | 559 | 700 | 42.9 | 584.2 | 635 | 72.6 | 20 | 31.8 | 1.1/8 | 160 |
| NPS 20 ID 513.1 | 300 | 587 | 775 | 63.6 | 584.2 | 685.8 | 95.6 | 24 | 34.9 | 1.1/4 | 205 |
| NPS 20 ID 513.1 | 600 | 610 | 815 | 95.3 | 584.2 | 723.9 | 133.4 | 24 | 44.5 | 1.5/8 | 285 |
| NPS 20 ID 513.1 | 900 | 622 | 855 | 114.4 | 584.2 | 749.3 | 165.4 | 20 | 54 | 2 | 350 |
| NPS 20 ID 513.1 | 1500 | … | … | … | … | … | … | … | … | … | … |
| NPS 20 ID 513.1 | 2500 | … | … | … | … | … | … | … | … | … | … |
| NPS 24 ID 615.9 | 150 | 663 | 815 | 47.7 | 692.2 | 749.3 | 82.6 | 20 | 34.9 | 1.1/4 | 170 |
| NPS 24 ID 615.9 | 300 | 702 | 915 | 69.9 | 692.2 | 812.8 | 106.6 | 24 | 41.3 | 1.1/2 | 230 |
| NPS 24 ID 615.9 | 600 | 718 | 940 | 108 | 692.2 | 838.2 | 146.4 | 24 | 50.8 | 1.7/8 | 330 |
| NPS 24 ID 615.9 | 900 | 749 | 1040 | 146.1 | 692.2 | 901.7 | 209.4 | 20 | 66.7 | 2.1/2 | 440 |
| NPS 24 ID 615.9 | 1500 | … | … | … | … | … | … | … | … | … | … |
| NPS 24 ID 615.9 | 2500 | … | … | … | … | … | … | … | … | … | … |
Lap Joint
Blind
Socket Weld
Threaded
Welded Neck
Flange Bolts