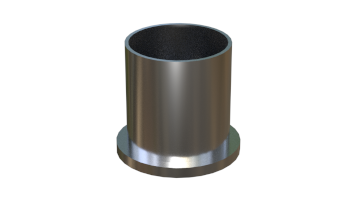 Titanium Stub Ends are available in both Welded Tube and Seamless Tube form and in conformance with leading international ASME standards.
Type: Lap Joint Stub Ends
Sizes: Schedule STD XS
Standard: ASME B16.9
Shaanxi Standard Titanium offer a full range of titanium stub ends, manufactured in accordance with ASME B16.9 – Factory-Made Wrought Buttwelding Fittings to ensure the sizes and properties are appropriate for your project. For all our titanium fittings we offer custom size manufacturer. To speak to one of our engineers contact us today.
B16.9 Factory-Made Wrought Buttwelding Fittings
Stub End standard fittings are specified under teh B16.9 standard. Used in conjunction with the lap joint flange the stub end is welded to the pipe leaving the flange to move freely on the stub end.
The stub end and flange combination typically has a lower pricing than other flanges but also has the advantage of a simpler fitting.
Standard Stub End Dimensions
Standard
| NPS | OD | T | G | F | R | kg |
| --- | --- | --- | --- | --- | --- | --- |
| 1/2 | 21.3 | 2.77 | 34.9 | 76.2 | 3.18 | 0.16 |
| 3/4 | 26.7 | 2.87 | 42.9 | 76.2 | 3.18 | 0.23 |
| 1 | 33.4 | 3.38 | 50.8 | 101.6 | 3.18 | 0.29 |
| 1.1/4 | 42.2 | 3.56 | 63.5 | 101.6 | 4.76 | 0.45 |
| 1.1/2 | 48.3 | 3.68 | 73 | 101.6 | 6.35 | 0.54 |
| 2 | 60.3 | 3.91 | 92.1 | 152.4 | 7.94 | 1 |
| 2.1/2 | 73 | 5.16 | 104.8 | 152.4 | 7.94 | 1.5 |
| 3 | 88.9 | 5.49 | 127 | 152.4 | 9.53 | 2.1 |
| 3.1/2 | 101.6 | 5.74 | 139.7 | 152.4 | 9.53 | 2.5 |
| 4 | 114.3 | 6.02 | 157.2 | 152.4 | 11.11 | 3 |
| 5 | 141.3 | 6.55 | 185.7 | 203.2 | 11.11 | 5.4 |
| 6 | 168.3 | 7.11 | 215.9 | 203.2 | 12.7 | 7.3 |
| 8 | 219.1 | 8.18 | 269.9 | 203.2 | 12.7 | 11.6 |
| 10 | 273.1 | 9.27 | 323.9 | 254 | 12.7 | 18 |
| 12 | 323.9 | 9.53 | 381 | 254 | 12.7 | 21 |
| 14 | 355.6 | 9.53 | 412.8 | 304.8 | 12.7 | 28 |
| 16 | 406.4 | 9.53 | 469.9 | 304.8 | 12.7 | 34 |
| 18 | 457.2 | 9.53 | 533.4 | 304.8 | 12.7 | 39 |
| 20 | 508 | 9.53 | 584.2 | 304.8 | 12.7 | 44 |
| 24 | 609.6 | 9.53 | 692.2 | 304.8 | 12.7 | 57 |
| 24″ | 609 | 616 | 305 | 152 | 13 | 692 |
XS
Tolerances
Take a peek inside our Wonderworld