Optimized & industry-ready SolutionS
For all your Titanium Bar & Rod requirements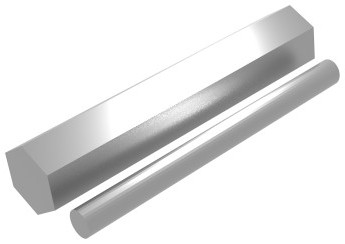 We manufacture and offer a wide selection of Titanium bar and rods items. Ti bars are available in CP Grades and common alloys including 6AL4V, 6AL4V Eli, 6/6/2. Our Ti bar diameter size range is from 8mm to 400mm Titanium bar is available in round bar, square bar, rectangular bar or hexagonal bar shapes. Our stock production is aligned to ASTM B348 along and is available for immediate shipping.
We provide titanium rods used in a number of industries with this core marketplaces being aerospace, chemical processing and also the health care industry. Our large volume production supplies a large stocklist and to fulfil orders at short lead cycles.
Product Range
Titanium Bar Production Capability
Ti Production Standard: ASTM B348, ASME SB348, ASTM F67, ASTM F136, ISO5832-2, ISO5832-3, AMS 4928, AMS 2631b
Ti Grades: Gr 1, 2, 3, 4, 5 (6Al-4V), 6, 7 (Ti-0.15Pd), 9 (3Al-2.5V), Grade 12, 23 (6AL-4V ELI) (6Al
Ti Bar Dimensions: Diameter 8 – 400 mm
Ti Bar Shape: Ti Square Bar, Ti Round Bar,
Ti Hexagonal Bar
Ti Bar Surface Finish: Black, Pickling, Sand-blasting
Monthly Output: 2000 tonnes
Applications
Size Tolerances
Tensile Properties
Why Standard Titanium?
Quality
Need help with easier industrial solutions? We are experts!
Take a peek inside our Wonderworld
Industry Focused Products!