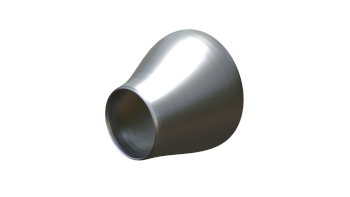 Titanium Reducers manufactured to custom specifications or in conformance with leading international standards including DIN, JISC, AMS, GB and ASTM. The primary standard being ASME B16.9. 
Types: Concentric and Eccentric
Dimensions and Tolerances: As per ASME B16.9 
Titanium Reducers are used is a wide range of settings and applications from chemical processing to paper pulp pipe networks. Standard Titanium can help with all your titanium fitting requirements, standard or custom.
ASME B16.9 Standard - Factory-Made Wrought Buttwelding Fittings
The ASME B16.9 Standard is applicable to a number of fitting types including Concentric and Eccentric Reducers. The guide acts a guideline for the manufacture to and ensure the reducers confirm to to given set of sizes, tolerances, markings and testable properties.
In accordances with the standard Reducers are sized between DN 15 to DN 1200. The Concentric Reducer is cone shaped and acts as a cavitation mechanism.
Reducer Concentric and Eccentric ASME B16.9
Reducer Concentric and Eccentric ASME B16.9

Wall Thickness specified separately.
| NPS | O.D. D | O.D. D1 | Len H |
| --- | --- | --- | --- |
| 3/4-1/2 | 26.7 | 21.3 | 38 |
| 1-1/2 | 33.4 | 21.3 | 51 |
| 1-3/4 | 33.4 | 26.7 | 51 |
| 1¼-1/2 | 42.2 | 21.3 | 51 |
| 1¼-3/4 | 42.2 | 26.7 | 51 |
| 1¼-1 | 42.2 | 33.4 | 51 |
| 1½-1/2 | 48.3 | 21.3 | 64 |
| 1½-3/4 | 48.3 | 26.7 | 64 |
| 1½-1 | 48.3 | 33.4 | 64 |
| 1½-1¼ | 48.3 | 42.2 | 64 |
| 2-3/4 | 60.3 | 26.7 | 76 |
| 2-1 | 60.3 | 33.4 | 76 |
| 2-1¼ | 60.3 | 42.2 | 76 |
| 2-1½ | 60.3 | 48.3 | 76 |
| ½-1 | 73 | 33.4 | 89 |
| 2½-1¼ | 73 | 42.2 | 89 |
| 2½-1½ | 73 | 48.3 | 89 |
| 2½-2 | 73 | 60.3 | 89 |
| 3-1¼ | 88.9 | 42.2 | 89 |
| 3-1½ | 88.9 | 48.3 | 89 |
| 3-2 | 88.9 | 60.3 | 89 |
| 3-2½ | 88.9 | 73 | 89 |
| 3½-1¼ | 101.6 | 42.2 | 102 |
| 3½-1½ | 101.6 | 48.3 | 102 |
| 3½-2 | 101.6 | 60.3 | 102 |
| 3½-2½ | 101.6 | 73 | 102 |
| 3½-3 | 101.6 | 88.9 | 102 |
| 4-1½ | 114.3 | 48.3 | 102 |
| 4-2 | 114.3 | 60.3 | 102 |
| 4-2½ | 114.3 | 73 | 102 |
| 4-3 | 114.3 | 88.9 | 102 |
| 4-3½ | 114.3 | 101.6 | 102 |
| 5-2 | 141.3 | 60.3 | 127 |
| 5-2½ | 141.3 | 73 | 127 |
| 5-3 | 141.3 | 88.9 | 127 |
| 5-3½ | 141.3 | 101.6 | 127 |
| 5-4 | 141.3 | 114.3 | 127 |
| 6-2½ | 168.3 | 73 | 140 |
| 6-3 | 168.3 | 88.9 | 140 |
| 6-3½ | 168.3 | 101.6 | 140 |
| 6-4 | 168.3 | 114.3 | 140 |
| 6-5 | 168.3 | 141.3 | 140 |
| 8-3½ | 219.1 | 101.6 | 152 |
| 8-4 | 219.1 | 114.3 | 152 |
| 8-5 | 219.1 | 141.3 | 152 |
| 8-6 | 219.1 | 168.3 | 152 |
| 10-4 | 273 | 114.3 | 178 |
| 10-5 | 273 | 141.3 | 178 |
| 10-6 | 273 | 168.3 | 178 |
| 10-8 | 273 | 219.1 | 178 |
| 12-5 | 323.9 | 141.3 | 203 |
| 12-6 | 323.9 | 168.3 | 203 |
| 12-8 | 323.9 | 219.1 | 203 |
| 12-10 | 323.9 | 273 | 203 |
| 14-6 | 355.6 | 168.3 | 330 |
| 14-8 | 355.6 | 219.1 | 330 |
| 14-10 | 355.6 | 273 | 330 |
| 14-12 | 355.6 | 323.9 | 330 |
| 16-8 | 406.4 | 219 | 356 |
| 16-10 | 406.4 | 273 | 356 |
| 16-12 | 406.4 | 323.9 | 356 |
| 16-14 | 406.4 | 355.6 | 356 |
| 18-10 | 457 | 273 | 381 |
| 18-12 | 457 | 323.9 | 381 |
| 18-14 | 457 | 355.6 | 381 |
| 18-16 | 457 | 406.4 | 381 |
| 20-12 | 508 | 323.9 | 508 |
| 20-14 | 508 | 355.6 | 508 |
| 20-16 | 508 | 406.4 | 508 |
| 20-18 | 508 | 457 | 508 |
| 22-14 | 559 | 355.6 | 508 |
| 22-16 | 559 | 406.4 | 508 |
| 22-18 | 559 | 457 | 508 |
| 22-20 | 559 | 508 | 508 |
| 24-16 | 610 | 406.4 | 508 |
| 24-18 | 610 | 457 | 508 |
| 24-20 | 610 | 508 | 508 |
| 24-22 | 610 | 559 | 508 |
| 26-18 | 660 | 457 | 610 |
| 26-20 | 660 | 508 | 610 |
| 26-22 | 660 | 559 | 610 |
| 26-24 | 660 | 610 | 610 |
| 28-18 | 711 | 457 | 610 |
| 28-20 | 711 | 508 | 610 |
| 28-24 | 711 | 610 | 610 |
| 28-26 | 711 | 660 | 610 |
| 30-20 | 762 | 508 | 610 |
| 30-24 | 762 | 610 | 610 |
| 30-26 | 762 | 660 | 610 |
| 30-28 | 762 | 711 | 610 |
| 32-24 | 813 | 610 | 610 |
| 32-26 | 813 | 660 | 610 |
| 32-28 | 813 | 711 | 610 |
| 32-30 | 813 | 762 | 610 |
| 34-24 | 864 | 610 | 610 |
| 34-26 | 864 | 660 | 610 |
| 34-30 | 864 | 762 | 610 |
| 34-32 | 864 | 813 | 610 |
| 36-24 | 914 | 610 | 610 |
| 36-26 | 914 | 660 | 610 |
| 36-30 | 914 | 762 | 610 |
| 36-32 | 914 | 813 | 610 |
| 36-34 | 914 | 864 | 610 |
| 38-26 | 965 | 660 | 610 |
| 38-28 | 965 | 711 | 610 |
| 38-30 | 965 | 762 | 610 |
| 38-32 | 965 | 813 | 610 |
| 38-34 | 965 | 864 | 610 |
| 38-36 | 965 | 914 | 610 |
| 40-30 | 1016 | 762 | 610 |
| 40-32 | 1016 | 813 | 610 |
| 40-34 | 1016 | 864 | 610 |
| 40-36 | 1016 | 914 | 610 |
| 40-38 | 1016 | 965 | 610 |
Tolerances
Nominal Pipe Size
Outside Diameter at Bevel
(D)
Inside Diameter at End
Overall Length
(H)
1/2 to 2.1/2
+ 1.6
– 0.8
± 0.8
± 2
3 to 3.1/2
± 1.6
± 1.6
± 2
4
± 1.6
± 1.6
± 2
5 to 8
+ 2.4
– 1.6
± 1.6
± 2
10 to 18
+ 4
– 3.2
± 3.2
± 2
20 to 24
+ 6.4
– 4.8
± 4.8
± 2
26 to 30
+ 6.4
– 4.8
+ 6.4
– 4.8
± 5
32 to 48
+ 6.4
– 4.8
+ 6.4
– 4.8
± 5
Wall Thickness
(t)
Not less than 87.5% of Nominal Wall Thickness